Compost Education Centre August Plant Sale - August 6th, 10:00 am to 1:00 pm
Compost Education Centre August Plant Sale - August 6th, 10:00 am to 1:00 pm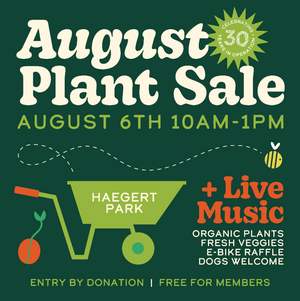 Come join us at the CEC August Plant Sale! We will have a table set up in Haegert Park with your favourite native plants.
August 6th, 10:00 am to 1:00 pm at Haegert Park (1202 Yukon Street)
This event will feature local farmers and Satinflower Nurseries, offering a wide variety of organically grown native plants, and annual overwintering vegetables and perennials to keep you eating through the winter.
And bigger than ever before, this year there is live music, artisan vendors, an e-bike raffle, and CAKE to celebrate CEC's 30th year as an organization 🎉
The plant sale will take place for the first time in Haegert Park one block from the CEC site on North Park street, so bring a blanket and some friends and stay a while. Entry by donation or free for CEC members. Dogs welcome!