Introducing: Satinflower Nurseries
Introducing: Satinflower Nurseries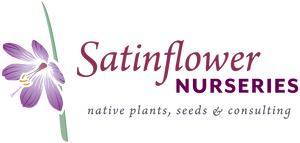 Hello everyone! 
We are excited to share a new chapter in our journey as a growing business.
We're pleased to announce that we have changed our name from Saanich Native Plants to Satinflower Nurseries! This decision was thoughtfully made with the intention of becoming more inclusive of the expanding scope of work we have taken on. Our nursery aims to inspire and empower people to restore and conserve nature on Southern Vancouver Island by providing native plants, seeds, education, and opportunities to learn. Every year, we build on the diversity of plants and seeds we offer, while still staying true to our core values of providing only plants native to the Victoria area. We also strive to bring you more information about native plants and local ecosystems into the future. 
But why the Satinflower? Satinflowers are unique! We chose the Satinflower, a delicate plant with a very local range, for our name and logo to highlight the unique plants and ecology of our region. The plant also represents a new beginning when these lovely plants bloom in early spring. Satinflowers require specific conditions in our local environment and deserve our care and respect as all nature does. Thank you to Emrys Miller from RocketDay Arts, for this beautiful design! 
So what's new? Since our inception in 2013, our flagship location has been at Haliburton Community Organic Farm, which resides on the Coast Salish Territories of the W̱SÁNEĆ Peoples. In 2020, we secured a second property in Metchosin that will eventually become our primary hub! At the moment, we are busy implementing the basic infrastructure like irrigation, parking, and fencing. This location will also include an indoor native plant shop that will feature some of our favorite restoration tools, books, and an opportunity to display our seed packages, and so much more. We can't wait to open our doors and welcome you in the summer of 2022.
As we launch into this transition you will see changes in signage and other media to reflect this name change. You will also see our new website was launched on Friday August 13 2021!
We hope you enjoy exploring the expanded features, including additional information about the plants themselves, tips on growing from seed, a FAQ section, and a shopping platform to ease your purchases. We appreciate your patience as we fine tune the site, and encourage your feedback or ideas to improve or expand into the future. We are also developing a newsletter that will share our stories and updates with you. You can also sign up for our new Nursery News and get exciting updates right to your email inbox!  
We deeply value our relationships with you, our customers, and greatly appreciate all your support over the past eight years. Thank you so much! We are ever appreciative of our other colleagues and community partners, who work with us in collaboration on a variety of projects related to restoration, community engagement, and outreach. We are also very grateful to our wonderful staff, past and present. Our nursery team has grown to thirteen people who work hard every day to bring you the plants, seeds, and information needed to bring your projects to life. 
We are so grateful for your ongoing support, and we will be providing regular updates over the coming weeks. 
Sincerely, 
the Satinflower Nurseries Team!