Cuthbert Holmes Park Creekside Planting Project with the District of Saanich
Cuthbert Holmes Park Creekside Planting Project with the District of Saanich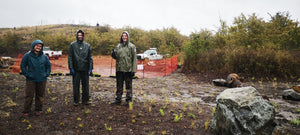 Cuthbert Holmes Park Creekside Planting Project - District of Saanich
Written October 23, 2021

By Paige Erickson-McGee, Satinflower Nurseries


On the estuarine banks of the Colquitz River, a mink explores the nooks and crannies between the freshly laid boulders and logs. Great Blue Heron rests up in the Garry oak tree, watchful observer over the oak woodland.
Cuthbert Holmes Park, a hidden gem in the District of Saanich and the host of the Colquitz estuary, is the last stop of the Colquitz river after traveling from the headwaters in Elk/Beaver Lake before entering Portage Inlet. Collecting rainfall from 46 kilometres squared of rapidly urbanizing landscape, the Colquitz watershed is more modified than it is natural, and Cuthbert Holmes Park is the confluence of an urban-natural interface.
Home to a mosaic of habitats, the park is nestled between the SilverCity movie theatre and the newly-developed McKenzie Interchange highway expansion project. Exposed mud and mulch cover the disturbed ground, and the excitement in the air is palatable.
District of Saanich crew members energetically haul out hundreds of large Trembling Aspen (Populus tremuloides) trees from the truck. The workers are completely unphased by the first day of pouring rain this season and the daunting amount of work ahead of them. "This is just the beginning of a really exciting restoration project," explains Kyle Vanderbeck, Saanich Natural Areas Practitioner.
Aspen is a common part of Garry Oak woodlands in wetter areas of our region, especially on clay soils. The rare Oregon Ash tree (Fraxinus latifolia) also grows in these habitats. This tree is now extremely uncommon in BC due to habitat loss and is provincially red-listed. In 2016, staff from Satinflower Nurseries collected local seed of Oregon Ash ahead of the McKenzie Interchange work, knowing that most of the Oregon Ash trees at Cuthbert Holmes would be destroyed. Five years later, these trees are thriving and ready to be planted out to become the seed source of these special trees for many generations to come.
Figure 1. Seedlings of the Oregon Ash collected locally.
Figure 2. Oregon Ash growing up from seedlings at the nursery.
The site will be home to over 500 replacement aspen trees with the intent of recreating what was lost in the McKenzie Interchange highway upgrade project. Mitigation funds from lost habitat provide five years' worth of secured funds to continue the restoration of this space, but this 5-year project led by the District of Saanich has admirable goals for such an important natural area (Figure 3 (right). Map of path relocation click here to see full detailed map and project).
"One day it would be amazing to see the Garry oak trees thriving with camas under the canopy instead of all this invasive English Hawthorn." said Kyle.
Who is the force behind this ambitious project? Rick Hatch, assistant supervisor for Saanich Natural Areas, explains his hopes for the future of the project and the trees:
"[We're] waiting to see how the water settles into the various receiving sites in and around the restoration area and would like to plant several patches this year and the same next year as we clear the majority of the English hawthorn trees away from the west side of the creek. We are also committing to enhancing the existing Trembling Aspen grove at Archers Meadow in Cuthbert Holmes Park and would love to see some Oregon Ash trees planted there as well," Rick explains. He is not the only one who deserves credit, however. Rick doesn't hesitate to mention his inspiration "Dave Clough, the lead biologist on all of our creek work; he inspires us all to do great work."
Figure 4. Rick Hatch in his element.
Two large gently-sloping planting areas have been thoughtfully carved out of the English Hawthorn-laiden banks of the river to revitalize the suffering salt marsh-woodland habitat. This woodland is known to be classified and mapped as Garry oak-California brome open woodland, a provincially red-listed ecological community, and globally is considered critically imperiled. The planting areas include a bank of small cobbles with large boulders and logs to create cool, calm pools of water along a rushing river, much needed respite habitat for spawning coho salmon and cutthroat trout swimming up from Portage Inlet. Up slope of those banks is a shallow low spot specifically designed to be a seasonal pond, important amphibian habitat for native frogs and salamanders.

Figure 5. Small cobbles laid on a gently sloping bank to create fish-friendly habitat with salt-tolerant plant species, such as Seaside Arrowgrass (Triglochin maritima) seen here.
Native plants were chosen with careful consideration after consultation from Kristen and James Miskelly, biologists and owners of Satinflower Nurseries. Plants are specifically selected to thrive in the mildly saline waters and rapidly changing water levels. Densely planted at 3-5 plugs per metre squared for best success, there were 13 different species including   Common Silverweed (Potentilla anserina), Seaside Arrowgrass (Triglochin maritima), and California Aster (Symphyotrichum chilense) and the total number of plants reach upwards of 2742 individuals. There was also a custom seed blend put together with 16 unique species suited for the specific conditions of the site.
"Being part of a planting project of this large scale is really interesting, getting to know the techniques of planting, species selection, and we are so grateful for the locally grown plant stock as well as all of the expertise from Kristen and James," said Kyle. "They are a phenomenal wealth of knowledge and it is so cool how stoked they are about restoration, it's so contagious."


Figure 6. District of Saanich workers planting in background with native species in the foreground.
Plans for an official trail that passes by the planting areas are being considered, but there is hope to have signage, split rail fencing, and an extension of an interpretive trail in the future. The estuary is part of the Victoria Harbour Migratory Bird Sanctuary, and used to be home to a Great Blue Heron rookery, where they would nest most years. It is a diamond in the rough, and we encourage you to visit the park for yourself! 
 Figure 7 (below). Map of Cuthbert Holmes Restoration Projects planned or underway. See video here.