MeadowMakers News Feature: Nature Revisited, the Podcast Episode 81 featuring Kristen Miskelly
MeadowMakers News Feature: Nature Revisited, the Podcast Episode 81 featuring Kristen Miskelly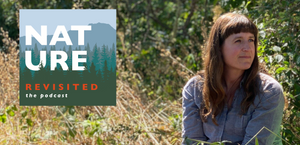 The MeadowMakers program was recently featured on episode 81 of the Nature Revisted Podcast, as Kristen Miskelly of Satinflower Nurseries chatted with Stefan van Norden about her background in nature and biology, the evolution of what is now Satinflower Nurseries, and why acting locally to promote the propagation of native species is so beneficial to migratory pollinators and the overall ecosystem.
CLICK HERE to listen!
Nature Revisited the Podcast:
Nature Revisited is a podcast that explores our relationship with the natural world. It consists of interviews, stories, and discussions that highlight the notion that nature is not a place one goes to, but rather a place one is already a part of - that We Are Nature. To learn more and listen to some of our favourite episodes, go to www.noordenproductions.com.