Winter Native Plant Sale
Winter Native Plant Sale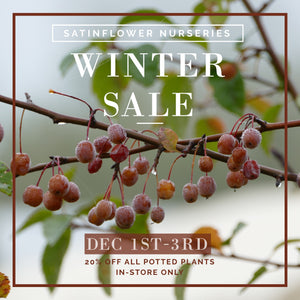 End of Season Sale!
Dec. 1 to Dec. 3 - 20% off all potted plants. In-person sales only. 
We are hosting our last sale of the season. Special price on all potted plants in stock. Winter is the ideal planting time for many potted species - they can put down roots through winter and early spring, making them even more resilient to drought stress in summer. 
Plus, we have a special holiday sale on the Vancouver Island Butterflies Book too!